Enjoy flatbread sliders for game day
It's getting down to the wire. We're just hours away from kick-off of the biggest football game of the year and one of the biggest eating days of the year. The folks at Kontos sent me this fabulous recipe to share for flatbread sliders - a perfect addition to your game day buffet!
A Page from The Kontos Cookbook… Get Ready for the Big Game
with Delicious Flatbread Sliders!
Warm, flavorful mini hamburgers on cocktail flatbread make great party food



Paterson, N.J. – Jan. 8, 2014 –

Want to offer something new and delicious this year for your football party buffet? Try sliders served on cocktail-sized flatbread.

Your guests will sink their teeth into these delicious mini burgers, which are the perfect size for snacking. Here's how to make easy sliders on mini Cocktail Flatbread. (This recipe can be attributed to Kontos Foods, a Paterson, NJ provider of traditional Mediterranean foods.)
Using any preferred ground beef, make patties approximately 2" in diameter. Season and grill to taste.

Melt your favorite cheese – American, cheddar or Swiss – on top of burger.

Place cooked burger between two pieces of Kontos Foods' Cocktail Flatbread.

(Note: Cut 2" diameter pieces from regular Kontos Flatbread if you don't have Cocktail Flatbreads.)

Top with relish, ketchup, etc., as desired.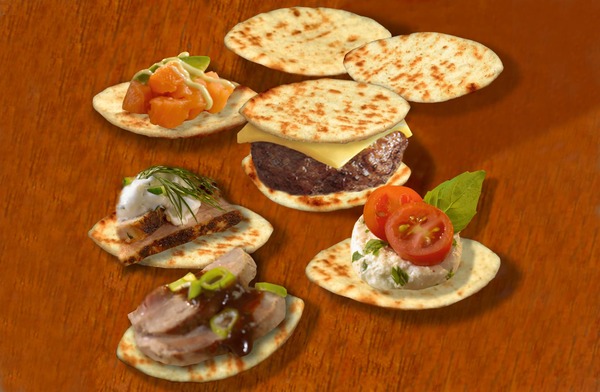 "A huge part of the fun of football parties is the food, and these sliders provide a great complement to the usual fare of nachos, veggie dips and other appetizers," said Steve Kontos, vice president of Kontos Foods. "In a burger, very often the type of bread makes the meal. Guests will love the delicious taste of Kontos Foods' Cocktail Flatbread, which are made with wholesome ingredients and hand-stretched for the perfect consistency and fluffiness."

Here are some other cocktail flatbread recipes to try:



Open-Face Salmon Appetizer
Slice strips or cubes of smoked salmon, enough to cover one piece of Kontos Cocktail Flatbread.

Garnish with Horseradish mayonnaise and sliced avocado.
Open-Face Beef/Pork Loin Appetizer
Place sliced strips of grilled beef or pork tenderloin to cover one piece of Kontos Cocktail Flatbread.

Garnish with Horseradish mayonnaise, scallion or dill to preference.
Open-Face Chicken/Tuna Salad Appetizer
Place dollop of chicken or tuna sliced to aptly cover one piece of Kontos Cocktail Flatbread.

Garnish with tomato, cucumber and/or fresh basil to preference.

To learn more about Kontos flatbreads, visit www.kontos.com or www.Flatbread.com.You can also find Kontos Foods on Twitter@KontosFoods or on Facebook atwww.facebook/KontosFoods. A photo is below or available upon request. The first 10 respondents can receive samples of the Kontos cocktail flatbread.



About Kontos Foods


Founded in 1987, Kontos Foods, Inc. is a Paterson, NJ-based provider of traditional Mediterranean foods for restaurants, hotels, food service, retail specialty stores and supermarkets worldwide. The family-owned company specializes in hand-stretched flatbreads, including the Kontos Pocket-Less Pita®, Fillo dough, pastries, olives, gyro meats, and Greek yogurts, as well as nearly 50 varieties of multi-ethnic flatbreads. Kontos, which has over 225 employees and was founded by Evripides (Evris) Kontos together with his son Steven, together bring over 100 years' experience in the premium food industry. To learn more, visit www.kontos.com, or call (973) 278-2800.